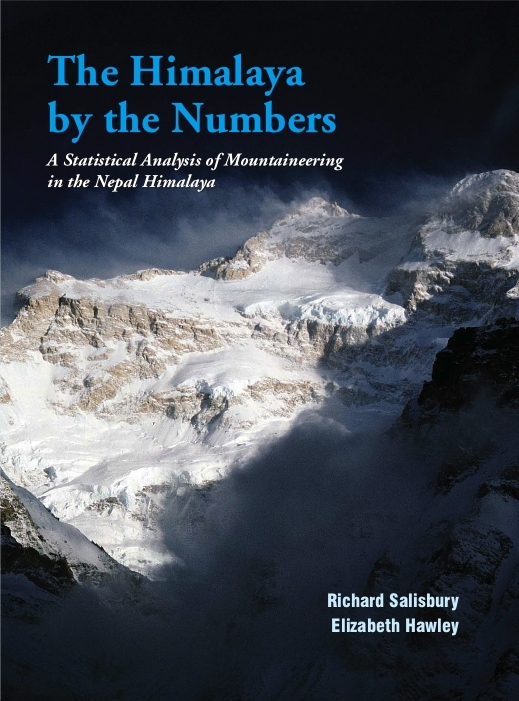 The Himalaya by the Numbers
A Statistical Analysis of Mountaineering
in the Nepal Himalaya
RICHARD SALISBURY
ELIZABETH HAWLEY
What are the most dangerous peaks to climb? What are the safest? When is the best time of year to climb?
These and many other questions are answered in the new and expanded edition of The Himalaya by the Numbers, a comprehensive statistical analysis of climbing activity, ascents and fatalities in the Nepal Himalaya.
The analyses cover three periods of climbing:
1950-1969 – the expeditionary period,

1970-1989 – the transitional period and

1990-2009 – the commercial period

The data are analyzed in several categories including climbing season, expedition years (changes over time), geographical regions of Nepal, age groups, gender, citizenship, and team size and composition.

In addition, fatalities are analyzed for both members and hired personnel by causes of death with special emphasis given to avalanches, falls and physiological factors. Time of day and distance from the summit also also examined for climbing accidents. Special emphasis is given to the most popular commercial peaks, Ama Dablam, Cho Oyu and Everest.

224 pages with charts and tables.
ISBN 978-9937-506-64-9, soft-bound, US$32.95
ISBN 978-9937-506-63-2, hard-bound (signed by authors), US$44.95
Published by Vajra Publications, Kathmandu, Nepal (2011)

The soft-bound edition is distributed worldwide by The Mountaineers Books, Seattle, WA and is available in bookstores and on Amazon.

The hard-bound edition (limited edition of 200 copies signed by the authors) is distributed by Vajra Publications, Kathmandu, Nepal and is available from specialty mountaineering book dealers or may be ordered directly from Vajra Publications in Kathmandu (contact bidur_la@mos.com.np).

The Table of Contents and four sample excerpts are available at the link below:

Himalaya by the Numbers (Table of Contents) [0.7mb Pdf]